MOTOPG - Daytona Ladies Evoque GTX Boots - Review
Author: Tug McClutchin Date Posted:19 January 2023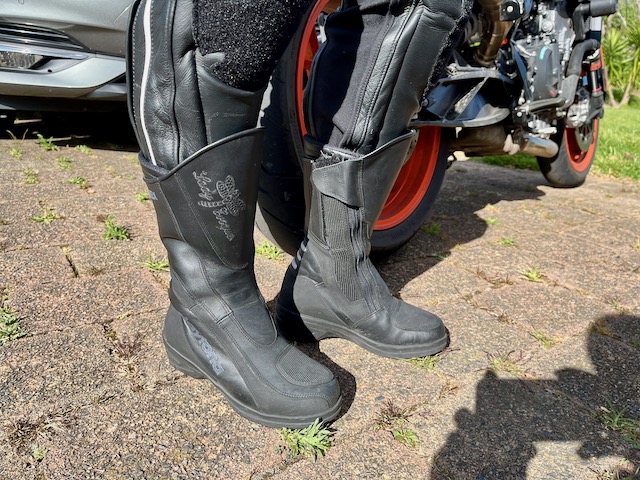 My better and more intelligent half recently bought herself a new bike, but the process wasn't necessarily simple. Being petite means most of the bikes available today are a few centimetres too tall in the seat for her, particularly since she wanted something sporty and fast. She's fun like that. I can't imagine her riding a cruiser. She'd grind the pegs off it, which is as it should be. Besides, we all love hot girls on fast bikes.
So she settled on a KTM 890 Duke GP, for a few reasons. It's powerful, fast, handles like a well balanced knife, has probably the lowest seat height of any bike in that class, and the seat is fairly narrow, which assists in getting your slippers on the hard stuff. You see, once she's mobile, her size only impacts her riding by making her faster than anyone else on the same bike. Power-to-weight ratios and all that. But it's the stopping that can be an issue. All my readers who can't see what's on the top shelf of the pantry will be feeling me right now.
Irregular surfaces, slopes, mud, gravel, holes, and slippery patches can all lead to moments of angst. Because shorter riders can't spread their legs as far apart as us big mansplainers when they need to put their feet down, they have less leverage to hold the bike up. She's plenty strong, it's just purely physics thing. Did you study fulcrum theory in school? Then this will make perfect sense. The wider you spread your feet, the more stable you are. But you know this, I'm sure.
I was chatting to Ray at Made In Germany about her predicament and he told me of a type of Daytona boot he imports that is specifically made to help ladies in her situation (and there's one for blokes too – read on!). It gives 6cm of extra height at the heel, and some increased height all the way through the boot. The best part is you can't even tell. They look like a normal boot. I know Daytona are probably the best crafted boots on the market (ask anyone who owns a pair) and so I bought her some.
She is instantly more than 2 inches taller when she puts them on, and that's a whole lot of additional leverage when it comes to holding the bike upright in tricky situations.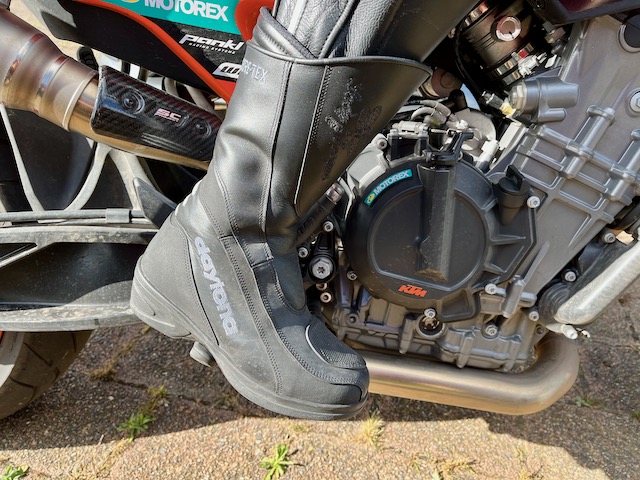 So here's the other important details.
Are they waterproof? Well, they have all the GORE-TEX stuff, and the leather is treated to make it hydrophobic. That means water is scared of it and runs off as soon as possible. Or it seems that way. We rode through plenty of rain on the way to WSBK at Phillip Island back in November and they didn't leak a drop. This made me sad, as my wondrously expensive Gaerne GORE-TEX touring boots leaked like the Titanic, so I was freezing and had to dry my socks each night with the hotel hair dryer while she was already smashing wines. Well, in truth she was being helpful, not smashing wines, but it didn't do much to lower my resentment levels. I mean, I did buy her the boots after all. I felt properly ripped.
I threw my rubbish Gaerne boots in the bin when I arrived home. I'll get some Daytonas instead.
She tells me they are super comfy, and she would never lie to me about her feelings. She also likes that they don't have any pink shit on them. I have no idea why manufacturers insist on making ladies gear look like something from a My Little Pony catalogue, but they need to fucking stop. It's insulting, and hurts their sales. I'm yet to meet a female rider that appreciates it. These boots do have some weird butterfly thing embossed into them, but at least it is the same black as the rest of the boot, so you don't notice it unless you drag them off her feet and look closely, so she can live with it. It's still a bit annoying though.
One tip for new players is that the extra height in the boot means it takes a little while to get used to your new foot position on the pegs in relation to your gear and brake levers. This isn't a big deal, and is simply a case of riding a bit until it feels normal. Some of you may like to adjust your gear and brake lever positions to suit you a little better, which only takes a few minutes on most bikes.
So, does the extra height in the boot do as intended? Let's ask her.
"It took a bit of getting used to the extra height when my feet were on the pegs, but not long into the first ride I found I settled into it. The most anxiety inducing part of riding for me has always been trying to hold the bike up when I stop. It's amazing the difference a few extra centimetres of height makes to my confidence, I feel so much more stable when stopping. It makes a day on the bike much more enjoyable and takes away the stress of worrying I'll drop the bike if I have to stop on a bad surface."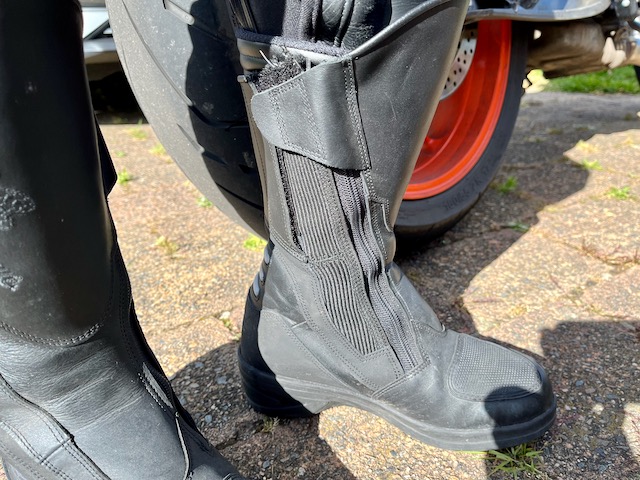 Even if your lady only goes pillion on the back of your bike, you can still get her some of these. They're awesome boots, waterproof, comfy, and she will have the added benefit of feeling like she has stripper heels on. What's not to love?
They're $600, which is actually really good value given the quality of these boots. They'll last forever.
You can get all the details and order some here; Daytona Lady Evoque GTX Boots Black - Available in Various Sizes
And boys, don't worry, there's even a version for you (sans butterflies); Daytona M-Star GTX Touring Boots - Available in Various Sizes
*These boots were paid for independently.
View full article here: MotoPG - Daytona Ladies Evoque GTX Boots - Review
---
Leave a comment